Best Big Blue Jumbo Filter in Fujairah
Big Blue Jumbo Whole House Water Filter Systems in Fujairah
Aqua Best Whole House Big Blue Jumbo Filter in Fujairah designed specially for whole-house or industrial and commercial applications. This Jumbo filter removes dirt, sediments, making water cleaner, clearer, and safer for your whole house. In addition, they also protect your appliances, fixtures and pipe lines.
Big Blue Jumbo Whole House Water Filter Systems
This 3 stage Jumbo water Filter is the best way to filter your water .This Jumbo Filter is also easy to install.These jumbo-filter ten 3-stages with frame are used for point-of-entry indicated filtration, ordinarily private. They can be used mechanically with more stream rate than a standard-size channel dwelling. A lot of water can get through a gigantic distance across channel dwelling, so it's used for a collection of employment. You can put a residue channel, a carbon channel, the solid channel with molecule exchange sap, or arsenic-diminishing media in a jumbo-filter ten 3-stages with frame.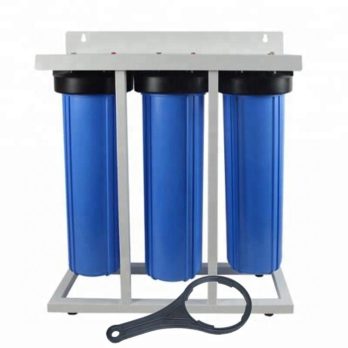 Big Blue Jumbo Whole House Water Filter Systems
Specification
In/Outlet: 1" & 1-1/2"
Cartridges Size: 20"x4.5
1) PP Spun Filter Cartridges: 5 Micron
(2) Carbon Filter Cartridges: Carbon Block
(3) String Wound Filter Cartridges: 1 Micron
Buy on whatsapp
Description
Big Blue Jumbo Filter in Fujairah